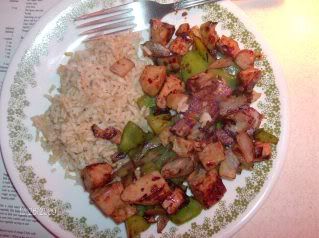 Counts as: 1 NS entree + 2 veggies + Free
1 NS chicken breast/patty-diced and rinsed
1 stem green onions-chopped
1/2 cup bell pepper-chopped
1/2 cup onion-chopped
PAM
Sauce
1/4cup low-sodium chicken broth
1 tsp low-sodium soy sauce
1/4 tsp white wine vinegar
1 pkt splenda
1/2 clove garlic-minced
1/4 tsp minced ginger
1/4tsp red pepper flakes
1/4 tsp cornstarch
*Sautee peppers and onions in PAM spray until just about soft.
*Spray more PAM if needed.*Add chicken and cook until warm.
*Meanwhile, in a little bowl, mix everything together.
*Add sauce to chicken and cook until a consistency you desire (I like mine thick).
*Serve with 1 carb (I chose 1/2 cup brown rice).
I made this for my SO with real chicken and he loved it although he said it needed way more red pepper flakes!!! My nose was running with what I had.