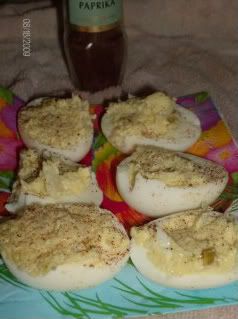 NS dietitian approved!
Counts as: 1 protein + 1 veggie + free (even the cheese is free!)
2 cups roughly chopped cauliflower
10 hard-boiled eggs-chilled
3 wedges The Laughing Cow Light Original Swiss cheese, room temp
1/4 cup FF Mayo
1 tbsp relish
2 tsp minced shallots (or sweet onion)
1.5 tsp yellow mustard
pepper to taste
Paprika to top
*Place cauliflower in bowl and add 1/3 cup water. Cover. Nuke 6-8 minutes until soft.
*Drain excess water.
*Lightly mash cauliflower and add mayo.
*Mix in cheese, relish, mustard, shallots and pepper until smooth.
*Refrigerate for 1 hour.
*Halve eggs and set yolks aside.
*Distribute the cauliflower into whites and top with paprika.
Serving size is 6 whites! Only 112 calories per serving. :D
Use the extra yolk to make egg salad for your family.