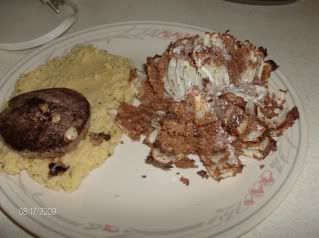 OMG. This was wonderful.
Onion Blossom
Counts as: 1 ns entree + 1 protein + 2 veggies + free
1 whole sweet onion-not peeled
1 NS Nutriflake cereal
3 egg whites
seasoning-seasoned salt, garlic powder, pepper
*Preheat oven to 400.
*Cut the top 1/2" of the onion off (from the pointy side). Leaving the bottom intact, peel off outside layer.
*Cut the onion in 1/8's making sure to stop 1/2 inch from the bottom.
*Place onion (cut side up) in a bowl full of ice water. Let sit 5-10 minutes until petals open up.
*In a sandwich baggie, crush cereal and add seasoning.
*Gently pry the petals apart if needed. Drain water and pat dry the bowl and onion.
*Saturate the onion with the eggs. Make sure to get in between all the petals, inside and out.
*Line baking sheet with foil.
*Transfer onion to baking sheet and coat in cereal. Get inbetween all petals and coat thoroughly.
*Bake for 40 minutes.
*Serve with ff ranch.
Garlic Taters and Steak
Counts as: 1 ns entree + 1 protein + free
NS cheesy homestyle taters
2 cloves garlic
pepper
1 oz steak (Schwann's 2oz steak shown in pic-counts as 1 protein)
*Mince garlic. Pepper steak press garlic into meat then fry until desired doneness.
*Add 1 clove garlic to taters and prepare as per directions.
Brush your teeth after this doozy!!!!