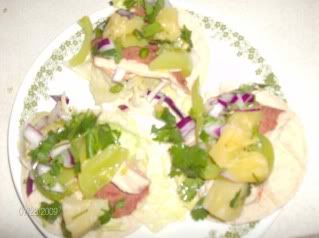 Counts as: 1 ns entree + 1-2 veggies + 1 fruit
1 pkg NS Chicken Patty
3/4c water
1 clove garlic-minced
1 tsp coconut extract
1tbsp splenda
1/8 bell pepper- julianned
*Boil everything together for 5-7 minutes. Remove chicken and continue cooking peppers until soft.
*Serve on corn tortillas (I used 3-30cal) with lettuce and pineapple salsa.
Pineapple Salsa
1/2 can diced pineapple, drained
1/4 onion-diced
bunch of cilantro-chopped
sliver jalapeno-minced
squirt of lemon juice
*Mix all together. Great for leftovers.