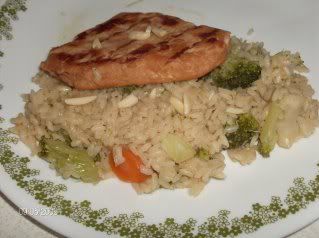 Counts as: 1 NS entree (carb included) + 1 veggie + Fat + Free
1 NS Chicken Breast Patty-rinsed
1 tbsp ff Italian Dressing
1 cup ff reduced sodium chicken broth
pinch garlic powder
1/2 cup broccoli florets
1/3 cup instant brown rice, uncooked
6 almonds, sliced
*Spray a frying pan with PAM spray. Add chicken and 1/2 tbsp of the dressing. Fry both sides until brown. Add in broth, powder, and rest of the dressing. Bring to boil and then Simmer on low for 3 minutes. Remove chicken and keep warm.
*Add broccoli and cook for 3 minutes uncovered. Add rice and half of the almonds. Cover and remove from heat. Let stand for 7 minutes.
*Serve with chicken and rest of almonds.
YUM!
A low GI carb serving of cooked rice is 1/3 cup. I cooked more because my SO wanted to try some. You'll have rice left over.
I was thinking of shredding the chicken and cooking it with the rice. Hmm...