Chicken Enchiladas with Peach Salsa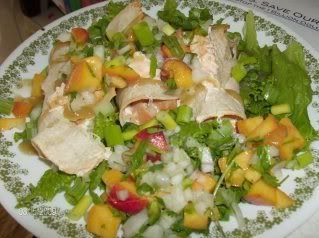 Counts as: 1 ns entree + 2 veggie + 1 protein + Lots of free + 1/2 fruit
1 NS chicken patty-sliced
3 corn tortillas (30 cal each)
1/4 cup (1 oz) ff cheddar cheese
2 tbsp ff cream cheese
1/2 tbsp onion-diced
salad portion of lettuce for bedding
Lime juice
2tbsp green sauce
*Preheat oven to 350.
*On a foil lined cookie sheet, place tortillas and chicken. Squirt chicken with lime juice.
*In a small bowl, mix cream cheese, cheddar cheese, and onion. Add to tortillas. Roll tortillas. *Bake for 5-7 minutes (depending on melted gooiness)
Meanwhile....
Peach Salsa
1/2 peach-diced
1/2 tbsp onion-diced
cilantro to taste
sliver jalapeno-minced
squirt lime juice
*mix all.
*On a plate, shred lettuce and put on plate for your bed. Put the enchiladas onto lettuce. Top with green sauce and salsa.