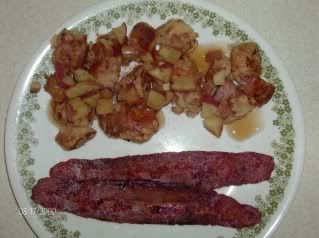 Counts as: 1 NS entree + 1 protein + 1/2 Fruit + Free
1 NS Apple Strudel Scone-Diced
1 tsp SF French Vanilla Powdered Creamer
1tbsp Warm water
1 Egg White
2 Dashes Cinnamon
*Dissolve creamer into water and add egg and 1 dash cinnamon. Mix well.
*Spray a small frying pan with PAM.
*Mix scone into egg and fry 2-3 minutes until golden.
*Top with 1 dash cinnamon, sf syrup, and caramel apples (see below). Serve with crisp bacon.
Caramel Apples
1/2 Apple-diced
Splash of SF Da Vinci Caramel Syrup
Dash of Cinnamon
Splash of water
*Combine all in small microwaveable bowl.
*Do not cover and nuke for 30 seconds. Stir and let cool for 1 minute.
Bacon
2 slices of turkey bacon fried to perfection