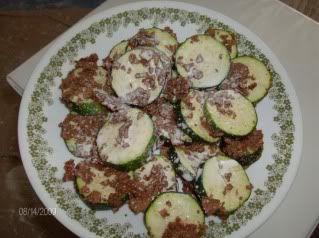 Counts as: 1 veggie + 1 ns entree + partial protein + free
1 zucchini-sliced
.5 cup egg whites
1 ns Nutribran flakes
spices-I used Italian
*Preheat over to 400 degrees
*In a sandwich baggy, crush cereal and add seasoning to your liking.
*Line a baking sheet with foil.
*Dredge zucc through egg whites and through crushed cereal. Put on foil.
*Bake for 10 minutes. Flip. Bake for additional 10 minutes. Broil for 1-2 minutes for extra crisp.
Serve with FF ranch dressing.